Students, families, staff, and special guests gathered at Prospect Schools' Sunset Yards campus on Oct. 2 to mark the official opening of Sunset Yards Middle School (SYMS) with a festive ribbon-cutting ceremony.
The school, which serves 75 students in 5th and 6th grades, opened in September in a new wing of 341 39th Street in Sunset Park, a retrofitted garment warehouse turned campus shared with Sunset Yards Elementary School, which opened last September. SYMS' founding principal, Cyana Rahming, a native of Long Island, N.Y., hired the school's founding team. The school will eventually serve up to the 8th grade.
In addition to families, members of the school community, and school leaders, Tresha Ward, CEO of Prospect Schools, was in attendance and opened her remarks reflecting on Prospect Schools' founding 15 years ago just a few blocks away at Sunset Park High School with a cohort of 90 sixth grade students.
"This founding class of sixth graders were our very first Prospectors and they learned and played just a few blocks from this current site," Ward said."Two of those sixth graders: Selwyn Roberts and Matthew Grossane-Diez are now teachers at our high school and part of a growing number of alumni who now work at Prospect! And while our new class of Prospectors are learning in this brand new building, there's something poetic about the fact that our current class is still playing in that Sunset Yards High school playground 15 years later! This is a full-circle moment that displays how the idea to start something different 15 years ago has now grown into a thriving K through 12 network of 7 schools with alumni not only doing well in college, but also in the workforce!"
Ward also said being in Sunset Park was special because of its rich historical and cultural roots, which matches Prospect Schools' intentionally diverse school community. "To be rooted in Sunset Park is an honor," she said.
With the opening of SYMS this fall, the campus now educates close to 250 students in grades K through third grade at SYES and 5th and 6th, and will continue to serve more students each year until it's a fully functioning K through 8th grade school. 
The event, held in the school's beautiful cellar level cafeteria, drew several guests, including parents, community neighbors, and folks from the education sector. 
Joining CEO Ward and Principal Cyana Rahming was Sherita Smith, Director of School Supports and Development for the New York Charter School Center, Lillian Liang, Program and Administrative Officer of the The Peter and Carmen Lucia Buck Foundation, and Pamela Inbasekaran, Chief Operating Officer of the Charter School Growth Fund. 
Smith addressed students and told them to never stop learning, reminding them that most of the adults in the room, their teachers and school leaders included, continue professional development because learning is a lifelong process.
"Congratulations on your new school, it's beautiful. May you never stop learning," she said.
Next to speak was Founding Principal Cyana Rahming, who likened the school to an ecosystem.
"The National Geographic Society defines ecosystems as a geographic area where plants, animals, and other organisms, as well as weather (because the weather tried us the other day) and landscape, work together to form a bubble of life. This is our bubble," she said. "And to our students, the purpose of us coming together to make this place is for you, and all of the students that will come after you. Sunset Yards Middle School is a place that is meant to be safe and inclusive. It is meant to challenge you, not just academically but as we grow together as people. Our school was made to teach you to think critically and to learn stand for what you believe while also embracing others who can be completely different than you."
Principal Rahming then talked about the school's theme for the year, which is Ubuntu, which means, "I am, because we are." She then had three students read poems related to the theme.
"In middle school's midst, where young hearts take flight, We discover Ubuntu, a beacon of light. It's more than just words, it's a philosophy profound, In these formative years, its wisdom is found," read Daylan, who is in 5th grade.
She then unveiled a big surprise as students voted for a school mascot. They had a choice of four different mascots nominated by teachers. After a drum roll and the theme of "Jaws," out came a student dressed as a shark. The Sunset Yards Middle School Shark was unveiled to thunderous applause.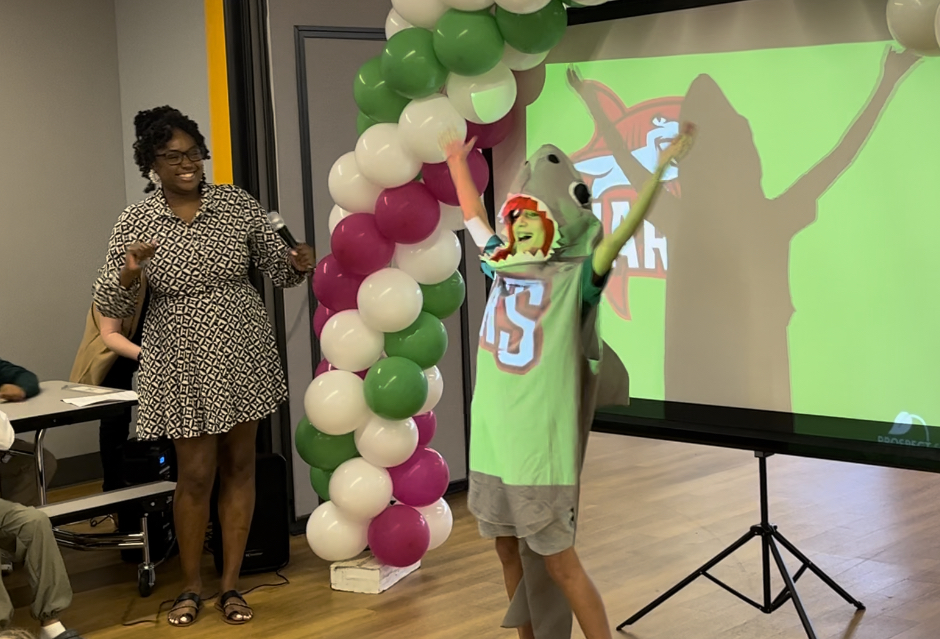 And then, the moment all were waiting for: the ribbon-cutting.
The large shiny ribbon, in green to honor the Prospect School network color, was held by the students who read the poems, along Ms. Monahanm the Founding Director of Operations and Ms. Brown, the Director of Student Support Services and STEM, and cut by Principal Rahming along with CEO Ward to a round of applause.
Parent Gabrielle Rubinstein, mother of a 6th grader and co-owner of Joe Coffee, donated a coffee bar for the celebration, and said she was overjoyed with her choice of school for her daughter.
"I chose Prospect Schools because I have always heard amazing things about it," Rubinstein said. One of my closest friend's kids were there early on and had nothing but good things to say. I love what the school stands for. We were on a waitlist for 6 years!! We're finally in and my daughter loves it! I think [the school leaders and teachers] are doing a fantastic job of teaching and inspiring and making learning fun (again). I believe that their hearts are 100% in it."
Sunset Yards Middle School is located at 341 39th Street in a modern space in the historic waterfront neighborhood of Sunset Park, Brooklyn. Once a garment factory and warehouse, Sunset Yards has undergone floor-to-ceiling renovations and is outfitted with modern finishes and state-of-the-art infrastructure. The school has 6 light-filled classrooms, a cafeteria, and a multipurpose room that can be used for indoor play and large gatherings. We will expand our space more and more each year. The school currently has seats open in 5th through 6th grade for the current school year, and is accepting applications for grades 5th-7th for the 24-25 school year.