In different ways, Willow and Sarah are helping Brooklyn Prospect High School emerge from the challenges of the pandemic. Both are IB Diploma Program students in the Class of 2023 and both have sought ways to build community during an especially fraught time for schools and students.
Alongside her co-captain Sabrina, this fall Sarah ushered the Varsity Girls Volleyball Team through an amazing and successful season that proved to be a real rallying point for the school. In the end, the BP Knights had an undefeated regular season before making it to the quarterfinals of the playoffs — a first in the history of Brooklyn Prospect High School.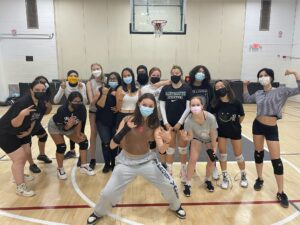 Of her role as a team leader, Sarah says, "It's extremely important to emphasize teamwork and unity. We're gonna have your back. The team should feel comfortable bringing problems to us, whether it's school, volleyball or life. Sports is about making connections with people you never thought you'd be friends with before."
Even though many students and staff members were unable to attend the team's games in person because of COVID, a little distance didn't keep the school from cheering on the undefeated volleyballers. 
"My teachers and coaches are really great," says Sarah. "One of my teachers hung up photos on their door of all the sports teams saying congratulations. I sent it to my volleyball team's group chat and they honestly loved it. We all have our favorite teachers who support us."
***
Willow has supported her school in a different way. During the height of the pandemic in 2020, she helped raise money to deliver period products to students who needed them. This fundraising effort built upon work Willow had already done in school the previous year by founding the BPHS Period Club, dedicated to "ending period poverty and stigma."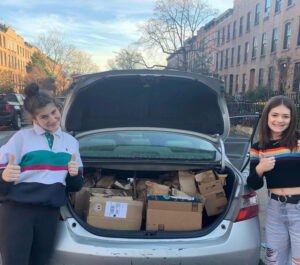 "I think that period products or menstrual hygiene in general is really overlooked in terms of the school system," says Willow. "In my community I noticed a lack of adequate supplies. There's a lot of stigma and shame around periods, which are often viewed as a 'woman's issue'… but it's actually a basic human rights issue. Period poverty disproportionately affects people of color."
At school, reactions to the club and fundraising work have been positive. The club's work has even extended to middle schools within the Prospect Schools network where students are also focused on issues of period poverty and stigma. These days, Willow has her focus on other social justice issues like the Ghislaine Maxwell trial.
"My current plan in terms of career path is something involving helping children," she says. "Something related to activism or anything that's helping people, especially people who have been exploited. I would like to study law and psychology."