What is the best way to understand how our students experience Prospect Schools and what they get out of their education here? Spend a day in the shoes of our students, of course! Chief Executive Officer Tresha Ward did just that at the start of this school year as she shadowed students at each of our six Prospect Schools.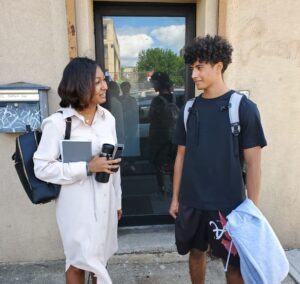 Tresha began in late September with Brooklyn Prospect High School senior Mohamed, a student-athlete on the varsity soccer team and a product of Windsor Terrace Middle School. A candidate for the International Baccalaureate diploma, Mohamed is also a finalist for a scholarship through the Posse Foundation, a nonprofit that identifies first-generation college students with extraordinary potential, providing them with a full scholarship to one of many Posse partner colleges and universities across the country. A Posse Scholarship is what brought Tresha from the Bronx to Nashville's Vanderbilt University years ago, so she was able to share with Mohamed her experiences of being the first in her family to go away to college.
Mohamed plans to be pre-med in college and already has quite the course load. Tresha sat in on his IB classes—Biology, Language, Literature, and Math Analysis, as well as Advisory, and Physical education. Mohamed then went on to IB Physics, History of the Americas, Mandarin, and then soccer practice, of course! Tresha reflected: 
"I left that day inspired and excited to watch Mohamed continue his journey this year and into the future. He is a product of his hard work and, of course, his education at Prospect."
Next, Tresha spent the day with Shai, also a soccer player and an 8th grader at Clinton Hill Middle School, where he serves on the student council. He shared some of his opinions with Tresha about how to improve our schools: more outdoor space was number one on his list! His favorite subjects are Science, Spanish, and Film, and he plans to pursue Musical Theater next year in high school.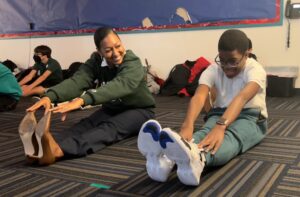 Then there was Dominiq, an 8th grader at Windsor Terrace Middle School, who is quick-witted and always happy to share his opinions. He commutes from Bedford Stuyvesant, loves to sleep, and schooled Tresha on the science behind atoms. He likes the rappers Tupac Shakur, Biggie Smalls, and Snoop Dogg and described himself as an old soul "with knees to match." He hopes to become a lawyer or a doctor someday.
To experience elementary school life, Tresha spent a half day at Sunset Yards Elementary School in Sunset Park, where she shadowed 2nd-grader Nova. A voracious reader, Nova displayed leadership skills in the classroom by showing other students what needed to be done and was quite the pro when it came to counting coins in Math class.
At Downtown Elementary School, Tresha also spent a half-day with Courtney, a very fashionable third-grader. Tresha described Courntey as a strong and meticulous artist who takes time with her work. The pair drew still-life with boxes in art class. 
Finally, Ward shadowed Christian, a 5th-grader at International Elementary School, currently located in downtown Brooklyn but moving to Bedford Stuyvesant next fall. Christian told Tresha he plays football for the Staten Island Hurricanes, loves Fortnite, drawing, and his teachers, "Ms. D & Ms. B." He recently finished reading the book Esperanza Rising and really liked it.
Tresha shared that while shadowing our Prospectors was "bucket-filling and inspirational" it also provided her an important perspective on our students' experience as she works with our school leaders, educators and team to continue to strengthen our K-12 program at Prospect Schools.