On this Veterans Day, Prospect Schools is saluting two of our very own. So much of the school day runs smoothly because of these two Prospectors, who served our country and today serve Prospect Schools.
A Culture of Organization and Care
Jasmin Sowell-Spears is the Assistant Principal of Programs at Brooklyn Prospect High School, where she is one of two deputy principals working under Principal Wendell Cheung.
In 2008, after one year of college in Michigan, Sowell-Spears decided it would be a better financial decision to attend school closer to home. She also enlisted in the United States Army Reserves, and in 2009, she was deployed to Iraq, where she trained to work in human resources.
"It's a good skill to have," said Sowell-Spears. "We're the nuts and bolts of the work. We know every detail about [our people], and we also support [them] when no one else is accessible.
After Sowell-Spears herself transitioned out of the military in 2011, she went straight into civilian work, but she kept her finger on the pulse of the military as a veterans case manager, supporting those who needed help accessing their benefits.
Sowell-Spears also earned her bachelor's degree from Medgar Evers College and a master's degree from Baruch College. She also earned an MSW in social work at Fordham.
So why Prospect Schools?
"Youth development is my passion, but I wanted to tap into my studies in social work, Sowell-Spears said. "That's what brought me here," said Sowell-Spears, who added she also gets to tap into the organization and engagement skills she picked up in the Army.
A Passion for Operations and Diversity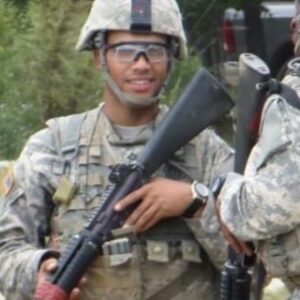 Pablo Tavarez, Prospect Schools' Senior Director of Operations, served in the Army National Guard for nine years.
The North Belleville, NJ, native joined in 2013 for several reasons, including having family and friends who served. But it was the start of his own family that played a big factor.
"I also strongly believe in earning my way. The fact that I'm a person of color, I felt it would be powerful for me to say, 'I've also earned my place,' so to speak [for my family]."
After a "very intense" basic training in Fort Benning, Georgia, Taverez trained for work in field artillery. After an honorable discharge, he continued to serve one weekend a month, and a couple of weeks per year. He was eventually promoted to the rank of sergeant.
Throughout his nine years, Tavarez was mobilized for large training events and big exercises. After the January 6th riots, for instance, he was stationed in Washington, D.C., to guard the capitol.
Tavarez, who holds degrees from Kean and Rutgers Universities, reflected on the diversity of fellow troops when he went away for basic training and the rest of his time in the National Guard. 
"Leaving North Bellville, New Jersey to go to Georgia in the middle of nowhere was the biggest cultural shock of my life," he said. "But you learn a lot about yourself and how to interact with people you've never met. I think I have habits and things that I do now because of some of the people that I've met that I wouldn't have before."
As for his family, Tavarez has a 9-year-old son who is fascinated by his time in the service. He also has an 18-year-old nephew who just graduated from basic training.