All Prospect Schools model their curriculum on the renowned International Baccalaureate Program. At the same time, our schools seek to meet every single student where they are, ensuring no student is left behind. 
Now that schools are back in person, we're able to take advantage of all the amazing resources the city of New York has to offer to engage our Prospectors in learning outside the classroom."
'We are going to Bruno's…'
Downtown Elementary School Principal Folake Akinola-Pinard recently wrote a song inspired by Lin-Manuel Miranda's "We Don't Talk About Bruno," a hit from Disney's Encanto. First-graders then practiced the song and performed it on a field trip to a local business, Bruno's Home Center.
"Bruno's is a hardware store
In Bruno's we'll see tools galore
This trip will teach us so much more
We are going to Bruno's woah, woah, woah…"
Taking three sections of 6-year-olds to a hardware store might seem like a challenging feat, but our teachers, three 5th-grade aides, and volunteer parents handled the outing with aplomb. Students learned about how tools worked, wrote up a shopping list with prices, and drew the tools available in the shop, a skill they'd practiced in art class. 
To pump the kids up for the trip, Principal Akinola-Pinard tied in a Hispanic/Latinx Heritage Month lesson about Manuel-Miranda. On the day of the field trip, students serenaded the store's owner, who is named Bruno of course!
A True Hands On Lesson
It is not uncommon to find Clinton Hill Middle School science teacher Kelly Vaughan and her class out in the hallways during physics lessons. Recently, her 6th-graders learned about balanced and unbalanced forces in the most hands-on way—by arm wrestling!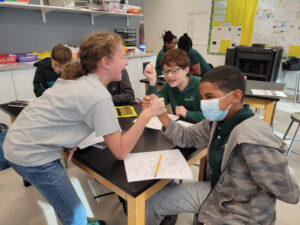 "When forces are balanced, there is no change in motion—so the [arm wrestling] match is a tie," Vaughan explained. "When they are unbalanced, there is a change in motion, so someone wins."
Learning outside the classroom isn't just about a change of scenery—it's a way to engage students who have different learning styles and preferences and mimic real-life experiences kids may encounter in their professional lives.
"[S]cience is a hands-on field—whether it's in the lab, out in the field, or finding ways to model a concept and bring it to life. It's authentic to give kids opportunities to use real equipment, investigate phenomena through experiments, and practice engineering design."
From the page to the stage, and a cemetery, too!
At Brooklyn Prospect High School, this is the fourth year that Danielle Berkowitz, the head of the art department, has taught "Writing for Stage and Screen." In her class, students learn the craft of scriptwriting and have the opportunity to see their work performed.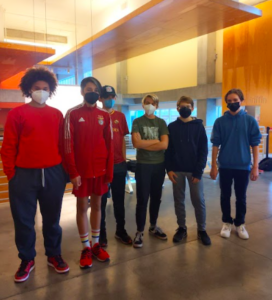 This year, the syllabus included a trip to see a play at Signature Theatre in midtown Manhattan.
"[Students] were able to see how performing a script is a different mode of communication than, say, reading a novel aloud," Berkowitz said.
Students watched a matinee of "My Broken Language," a stage adaptation of a memoir by Pulitzer Prize-winner Quiara Alegría Hudes. The world premiere production, which was directed by Hudes and contained monologues, literary reading, music, and movement in its depiction of a Puerto Rican family in Philadelphia.
"[Students] felt very seen by the content of the play," Berkowitz said. "They enjoyed the talk-back afterward to hear how the actors related to the text."
Meanwhile, and just in time for Day of the Dead, Erin Eckstein's IB Languages & Literature elective, "Supernatural,"  spent a sunny afternoon reading at Brooklyn's historic Greenwood Cemetery.